CRESEMBA® (isavuconazonium sulfate) is indicated for the treatment of invasive aspergillosis and invasive mucormycosis in adults. Usage
CRESEMBA Support Solutions
Your resource for access, reimbursement, and patient assistance
CRESEMBA Support Solutions, a component of Astellas Pharma Support SolutionsSM, offers access and reimbursement support to help patients overcome challenges to accessing CRESEMBA.
CRESEMBA Patient Savings Program
The CRESEMBA Patient Savings Program is for adult patients who have commercial prescription insurance. Eligible patients can expect to pay as little as $25 per prescription for a maximum savings of up to $4000 annually.*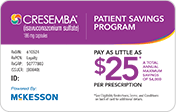 Copay Savings Card for CRESEMBA
Help your eligible patients start saving on their CRESEMBA prescription today.*
Enroll at ActivateTheCard.com/CRESEMBA
*In order to participate in the CRESEMBA Patient Savings Program ("Program"), a patient must have commercial prescription insurance for CRESEMBA. This Program is not valid for patients whose prescription claims are reimbursed, in whole or in part, by any state or federal government program, including, but not limited to Medicaid, Medicare, Medigap, Department of Defense (DoD), Veterans Affairs (VA), TRICARE, Puerto Rico Government Insurance, or any state patient or pharmaceutical assistance program. This offer is not valid for cash-paying patients. This Program is void where prohibited by law. Certain rules and restrictions apply. Astellas reserves the right to revoke, rescind, or amend this offer without notice.
Explore the full range of support from CRESEMBA Support Solutions
To explore more about the support available through CRESEMBA Support Solutions, simply click any of the links below: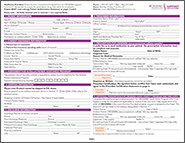 Enrollment Form for CRESEMBA Support Solutions
Complete the Patient Enrollment Form manually, including all signatures, then fax to 1‑866‑317‑6235.
Contact CRESEMBA Support Solutions
Phone: 1-800-477-6472
Fax: 1-866-317-6235
Monday through Friday, 9 AM to 8 PM ET
Or visit CRESEMBASupportSolutions.com


IMPORTANT SAFETY INFORMATION AND USE OF CRESEMBA
CONTRAINDICATIONS
CRESEMBA is contraindicated in persons with known hypersensitivity to isavuconazole

Coadministration of strong CYP3A4 inhibitors, such as ketoconazole or high-dose ritonavir (400 mg every 12 hours), with CRESEMBA is contraindicated because strong CYP3A4 inhibitors can significantly increase the plasma concentration of isavuconazole

Coadministration of strong CYP3A4 inducers, such as rifampin, carbamazepine, St. John's wort, or long acting barbiturates with CRESEMBA is contraindicated because strong CYP3A4 inducers can significantly decrease the plasma concentration of isavuconazole

CRESEMBA shortened the QTc interval in a concentration-related manner. CRESEMBA is contraindicated in patients with familial short QT syndrome
WARNINGS AND PRECAUTIONS
Hepatic Adverse Drug Reactions (e.g., elevations in ALT, AST, alkaline phosphatase, total bilirubin) have been reported in clinical trials and were generally reversible and did not require discontinuation of CRESEMBA. Cases of severe hepatic adverse drug reactions including hepatitis, cholestasis or hepatic failure including death have been reported in patients with serious underlying medical conditions (e.g., hematologic malignancy) during treatment with azole antifungal agents, including CRESEMBA. Evaluate liver tests at the start and during therapy. Monitor patients who develop liver abnormalities during CRESEMBA therapy for severe hepatic injury. Discontinue if clinical signs and symptoms consistent with liver disease develop that may be attributable to CRESEMBA.
Infusion-Related Reactions including hypotension, dyspnea, chills, dizziness, paresthesia, and hypoesthesia were reported during intravenous administration of CRESEMBA. Discontinue the infusion if these reactions occur.
Serious Hypersensitivity and Severe Skin Reactions, such as anaphylaxis or Stevens Johnson syndrome, have been reported during treatment with other azole antifungal agents. Discontinue CRESEMBA if a patient develops a severe cutaneous adverse reaction. Caution should be used when prescribing CRESEMBA to patients with hypersensitivity to other azoles.
Embryo-Fetal Toxicity: During pregnancy, CRESEMBA may cause fetal harm when administered, and CRESEMBA should only be used if the potential benefit to the patient outweighs the risk to the fetus. Women who become pregnant while receiving CRESEMBA are encouraged to contact their physician.
Drug Interactions: Coadministration of CRESEMBA with strong CYP3A4 inhibitors such as ketoconazole or high-dose ritonavir and strong CYP3A4 inducers such as rifampin, carbamazepine, St. John's Wort, or long-acting barbiturates is contraindicated.
Drug Particulates: Following dilution, CRESEMBA intravenous formulation may form precipitate from the insoluble isavuconazole. Administer CRESEMBA through an in-line filter.
ADVERSE REACTIONS
The most frequently reported adverse reactions among CRESEMBA-treated patients were nausea (26%), vomiting (25%), diarrhea (22%), headache (17%), elevated liver chemistry tests (16%), hypokalemia (14%), constipation (13%), dyspnea (12%), cough (12%), peripheral edema (11%), and back pain (10%).
The adverse reactions which most often led to permanent discontinuation of CRESEMBA therapy during the clinical trials were: confusional state (0.7%), acute renal failure (0.7%), increased blood bilirubin (0.5%), convulsion (0.5%), dyspnea (0.5%), epilepsy (0.5%), respiratory failure (0.5%), and vomiting (0.5%).
INDICATIONS AND USAGE
CRESEMBA is an azole antifungal indicated for patients 18 years of age and older for the treatment of invasive aspergillosis and invasive mucormycosis.
Specimens for fungal culture and other relevant laboratory studies (including histopathology) to isolate and identify causative organism(s) should be obtained prior to initiating antifungal therapy. Therapy may be instituted before the results of the cultures and other laboratory studies are known. However, once these results become available, antifungal therapy should be adjusted accordingly.

Please see full Prescribing Information.